Course Description
All problems are leadership problems. Extreme Ownership provides online leadership training in 12 Foundation Courses that teach the fundamental principles from the #1 New York Times bestselling book, Extreme Ownership: How U.S. Navy SEALs Lead and Win, delivered by the authors, Jocko Willink and Leif Babin. Each online leadership course follow the subject of a corresponding chapter in the book, provides a detailed look into the leadership principle, and guides its direct application to business and life. Designed for leaders at every level of an organization, including the senior executive team, mid-level managers, front-line leaders, individual contributors, and anyone who interacts with other human beings, these principles help any organization radically improve performance, accomplish the mission, and win. Each Extreme Ownership Foundation Course module provides combat examples, detailed explanation of the principle, direct application to business with multiple examples, and role play demonstrations of what to do and what not to do. Knowledge is tested through three interactive application exercises and five learning check questions per module.
Learning Objectives
Recognize that leadership is the most important factor in the success or failure of any team
Connect the principles of combat leadership to everyday leadership challenges
Apply Extreme Ownership principles directly to your world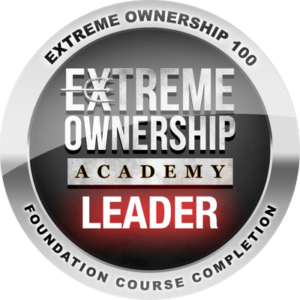 Earn this badge at the completion of the course.
Login
Accessing this course requires a login. Please enter your credentials below!